Higher Education Sprout Project of MCUT
Sub-project 1-1. Cultivate innovative engineering talents through core practical internship
Student research projects oriented toward industry issues help inspire students' practical innovation abilities.
The pre-internship workplace literacy training class now counts for 1 academic credit, with a total of 21.6 class hours.
Pre-internship technical training classes have been opened, with a total of 328 students enrolling in the classes as electives.
For Practicum Certifications, we have invited specialist scholars to act as committee members. Participating students are required to possess specialized abilities in technical fields, and to have a strong personal grasp of problem-solving abilities. Students who pass certification receive practicum certificates co-signed by industry leaders.
Sub-project 1-2. Appropriate cultivation plans that link to industrial needs
Developing practical classes for talented elite students
The admission criteria include being a technically/artistically talented student, having a B- or C-class specialized certification, and TOEIC scores. Practical classes account for 60% or more of the class load, to strengthen technically/artistically talented students' practical abilities. The program is designed so that all those who participate will spend 5 days doing practical visits at superior colleges (NUTN, NCKU and NCHU). During these visits, they receive instruction in AI and nanotech, and in vacuum technology.
Fostering talents that meet the needs of industry
In addition to helping students obtain highly-valued certifications with government- and privately-run organizations, MCUT is also working hard to secure practical certifications with different industries. In compliance with the MOE Industry Professional Assessment implementation plan (which aims to create an abundance of the kind of talents needed for industrial upgrading and transformation), MCUT is using certifications that meet industry needs to enhance students' motivation to learn and employment competitiveness.
Sub-project 1-3. Develop an academy of whole person education
Individual career consulting: MCUT provides career counselors to evaluate students' career status. They integrate career testing and psychological consulting to help clarify students' career plans. In addition, career instructors provide industry information, consultation on graduate school applications, and interview practice. Career consultation proceeds based on students' needs, to develop their aptitudes and lessen the academia-career gap.
Sub-project 2-1. Innovation and entrepreneurship practice
Strengthening campus innovation and entrepreneurship literacy
Our faculty is innovative, entrepreneurial, and specialized, systematically trained over years. To reinforce faculty entrepreneurship experience, we add practical faculty with entrepreneurial experience to participate in innovation/entrepreneurship dual instruction and pedagogical activities.
Deepening innovation/entrepreneurship classes and implementing practical entrepreneurship curricula
Implementing practical curricula and "deep dive" classes help student thinking move from "0 to 1" and orient themselves toward practical entrepreneurship. We draft innovation/entrepreneurship curricula to cultivate students' analytical, planning and implementation abilities. We also hold maker research and study classes, foreign maker interchanges, and entrepreneurship conception activities, to expand students' international perspectives and develop their potential.
Promoting interdisciplinary collaborative study; strengthening innovation and problem-solving abilities
Interdisciplinary collaborative study features an expanded mix of different disciplines in collaborative study, and introduces industry issues. The results of project-based learning (PBL) and practical/in-service study integrate real industry issues, to increase innovative thought capabilities around industry pain points and make entrepreneurship a reality.
Establishing innovation/entrepreneurship internship sites
Using a student-centered learning design, over multiple years, we create robust innovation/entrepreneurship practice sites. We add to and develop the campus café, smart retail, smart manufacturing demonstration factory, and other experiential sites, to deepen students' practical entrepreneurship abilities.
Building a practical innovation/entrepreneurship ecosystem
Our "deep dive" classes, overseas maker research and study mini-classes, and dual-teacher/dual-instruction classes integrate individual study with the needs of entrepreneurship practice. This creates an atmosphere rich in entrepreneurship, and a practical ecosystem of mutual honing and improvement, to continue perfecting our innovation/entrepreneurship internship sites and the innovation/entrepreneurship ecosystem.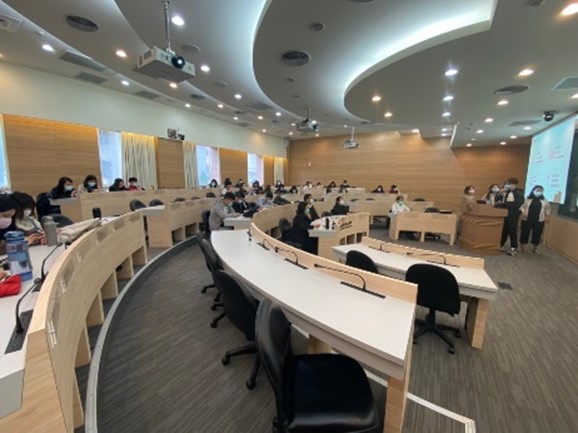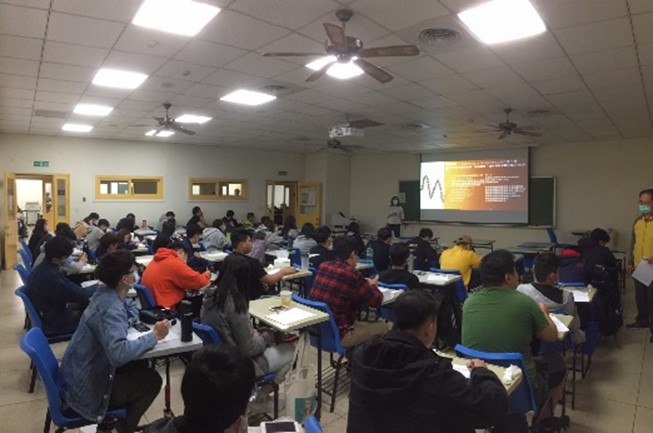 Sub-project 2-2. Strengthen campus internationalization
For 2020, we began adopting the Platform for Studying Specialized English Vocabulary Online (iMC) app, which includes proprietary specialized English vocabulary curriculum content. This provides students with multiple methods to study specialized English vocabulary. In addition, we also hold online academic talks, featured thematic workshops and multinational professional practicums to shape new post-pandemic models for interaction and maintain our strong partner relationships with all our international sister schools.

Sub-project 2-3. Project title: Interdisciplinary Competence Development Project
Continuing to promote selection of outstanding teaching assistants
The selection process gives awards and scholarships to outstanding teaching assistants and holds them up as examples.
Continuing to promote implementation and improvement of learning evaluation systems
Implementing learning evaluation systems in turn helps understanding of students' learning status, in order to make improvements.
Continuing to promote distance learning classes & curricula and establish subsidies for teaching assistants
Using our teaching resources to the utmost in order to enhance students' development of interdisciplinary study and interest.
Continuing to promote remote learning class evaluations
In promoting distance learning classes, we invite on- and off-campus experts and scholars to implement curriculum evaluations.
Continuing to promote interdisciplinary classes
The classes guide students' creative thinking and enhance students' design thinking abilities.
Continuing to promote innovation/entrepreneurship classes
Continuing to support instructors' applications for teaching assistants
Sub-project 3-1. Teaching innovation and teacher development
MCUT's promotion of pedagogical innovation and improved teaching quality is not only demonstrated by participation numbers for the on-campus innovative teaching program. It's also reflected by the major awards we've received from the Ministry of Education's Teaching Practice Research Program.
We continue to promote interdisciplinary learning. For 2020, MCUT invited Taipei University of Technology, Chang Gung University of Science and Technology, 4 teachers from industry, 18 MCUT instructors, and 32 MCUT teaching assistants to collaborate on curriculum advancement. A total of 883 students participated in the Advanced Design Thinking Workshop for Workplace Readiness and Orientation.
In terms of practicing social responsibility and local community operations, the Center for General Education is guiding new students in all departments to do onsite visits. During these visits, they come to understand the environment around them in their daily lives and think about other cultures, history, ecologies, the environment, new immigrants, and other important topics.
Sub-project 3-2. Project title: Pilot Project in Specific R&D Domains
International cooperation
Our various research centers have collaborated with international scholars to write 81 SCI-level papers.
Our research institutes' "Double I" achievement rate for the academic year is 91.8%.
Teaching and imparting plan
This program integrates research analysis and industry-academia. In addition to in-depth research in materials, we also focus on substantive industry applications and do manufacturing and product experiments.
MCUT continues to implement collaboration and exchanges with a variety of international universities. In the past few years, many international students have come to MCUT for short-term research.
Sub-project 3-3. Industry and academia connection, and industrial application talent cultivation
In order to activate fintech promotion and deployment, and to subsidize turning R&D results into products, we have implemented fintech talks and an in-depth industry-academia teaching and imparting plan. Our participation in Taiwan Innotech Expo garnered us 2 gold and 3 silver medals, and helped connect MCUT's interdisciplinary teams in deepening their service to local industry.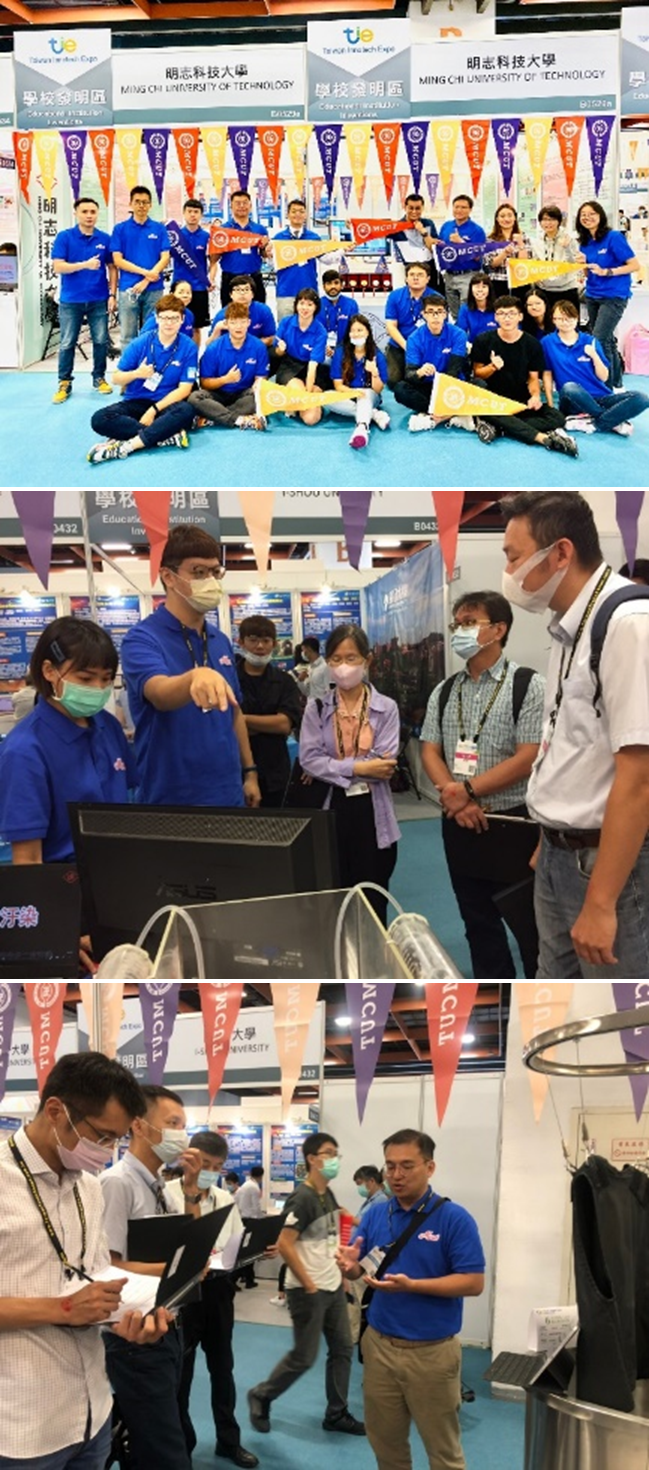 A total of 44 MCUT teams have participated in Innovation/Entrepreneurship Competitions, with teachers spending 78 hours in mentoring teams.
24 teams participated in the 15th Zhanguoce National Innovation/Entrepreneurship Competition. 3 MCUT teams were runners-up and champions.
20 teams have participated in the Ministry of Education College and University Entrepreneurship Challenge Simulation Training Platform ("EC-SOS"), with 8 honored as Outstanding Teams.
Sub-project 4-1. Helping the disadvantaged pursue social class mobility
This project allows financially disadvantaged students to remain in school to pursue their studies. In 2021, more than 617 students benefitted from the project.
In its language program, the Swan Project coached more than 79 students in 2021 to take part in the TOEIC exam. In the posted TOEIC test results, 5 students scored 450 or above and 6 students scored 550 or above.
Based on the results of employer satisfaction surveys in recent years, the strengths and weaknesses of our graduates in the workplace were analyzed, and relevant career counseling courses were formulated accordingly.Outcome assessment of the Fly High courses showed that average student satisfaction with the course lectures and activities was over 99%.
Sub-project 4-2. Institutional administration and local university sustainability
The Smart Assistant Program integrated Line notification software in September, 2020. Initial implementation is complete, and 15000 notifications have been sent out via promoted discussions.
We regularly hold academic theory research & learning classes and provide information on academic theory talks at sister schools for all MCUT faculty to participate in. We have also established a publication comparison system, and hold relevant pedagogical trainings.
Through "Living Green and Purchasing Environmentally", we make "green consumption" part of life, in hopes of working hard together to reduce waste, lessen environmental impacts, and promote a green university, together.
We are continuing to implement university social responsibility, and opening a variety of cultural education classes and group activities. We also cooperate locally in holding cultural tours and culture-creative workshops, in hopes of inspiring the public to care even more about local culture, the environment, new immigrants, and more important topics.
Sub-project 4-3. Institutional research and information disclosure
The IR Center completed 5 analyses, and business management units proposed improvement measures accordingly to improve the effectiveness of teaching and institutional administration. Completed the analysis of 8 items in the Institutional Research Project Grant for Teachers, and conducted outcome presentations.
Formulated and maintained 206 data tables.
Completed 9 items of the Mingchi Visual Analysis; 85 items of the Visualization Analysis of Institutional Affairs of National Colleges and Universities; and 85 items of institutional affairs information disclosure.
Organized the 2020 Academic Year Institutional Affairs Research Advisory Committee; participated in 9 sessions of job competency seminars organized by TAIR and 4 sessions of a three-school IR exchange.